Got A Keurig for Christmas and Need Some Coffee??
The holidays are winding down but, you are never done shopping for coffee! Especially if you received a Keurig for Christmas and now need a source for deals! So here is a great deal on keurig cups.
Wacky Wednesday Weekly Coffee Sale! Every Wednesday they will post a totally wacky sale price on a variety of coffees including Keurig Kcups and Nespresso compatible capsules. Don't forget shipping is free when you spend $59. or more!
Tully's Hawaiian Blend Keurig K-cup coffee is on sale for $11.99 per box of 24!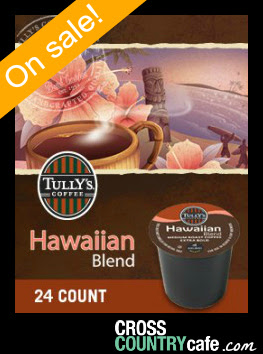 Let your imagination take you to a tropical island paradise with Tully's Hawaiian Blend Extra Bold K Cups. Containing 20% more coffee than regular K Cup portion packs, Tully's Hawaiian Blend is a medium roast coffee made from 10% Hawaiian and other fine Arabica beans using Tully's signature slow roasting process to bring out the full flavor. It makes a cup of well balanced coffee with a floral aroma, a mild sweetness and a smooth elegant taste.
And for an exceptional value…
Diedrich Rio Blend Keurig K-cup tea is on sale for $9.99 per box of 24!
Get yourself ready for a carnival with these Rio Blend K-Cups from Diedrich. This K-Cup boasts a smooth, creamy body with hints of spice, raisins and cocoa. It is a well balanced medium roast that will put you in the mood for dancing.